Health Services > Laboratories
Total
5103
Views
Soni Laboratory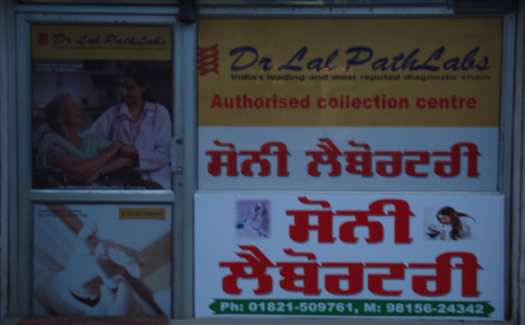 Soni Laboratory
Authorised Collection Centre Dr Lal Path Labs
Saidpur Road
Near Chopra Hospital
Shahkot - 144702
Distt. Jalandhar
Authorised Collection Centre of Dr. Lal Path Labs
Facilities:
Fully Computrised
Air Conditioned Lab
Euipped With:
ERBA 5X ANALYSER
Electrolytes Analyser
Urine Analyser
Autoclave
Incubator
All Test Available Here:
CBC
Liver Function Test
Lipid Profile
Renal Function Test
Electrolytes
Urine Culture
Blood Culture
T.B. Test
Fever Panel
AIDS Test
More Tests Available:
T3 T4 TSH
FSH, LH
PROLACTIN
ESTRADIOL
TORCH PANEL
CANCER MARKER TEST
HbA1c
HISTOPATHOLOGY
Contact Details:
Sandeep (Soni)
Tel: 01821-509761
Mobile: 98156-24342, 94654-62763
Email Address: c2hhaGtvdDIwMDlAeWFob28uY29t
---
Update Us About This Page of Shahkot City
(
More About This Business/Office/Place
)
Special Note :
Fill this form to send us more about this page, if you have any updated information of upper page business or place of Shahkot City. This form will send instant email to
Team of ShahkotCity
and then Team will do appropriate action regarding this page to update details or contact numbers etc.
Thank you very much to everone for love & support.
---