Shops and Businesses > Utensils Shops
Total
7
Found
All
A
B
C
D
E
F
G
H
I
J
K
L
M
N
O
P
Q
R
S
T
U
V
W
X
Y
Z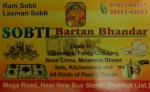 Sobti Bartan Bhandar Moga Road, Near New Bus Stand Shahkot - 144702 District - Jalandhar, Punjab, India. We Deals In: Glassware Fancy Crockery Bone China Melamine Dinner Sets All kind of Plastic Goods Branded Microwaves Blenders JMG Grinders All Electronic Kitchen Equipments Range Fancy Items Photo Gallery of Sobti Bartan Bhandar Shahkot : + click on small snap to make it enlarge + please wait gallery loading... &nbsp...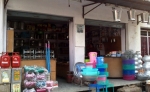 Vishal Aggarwal Bartan Shop Gandhi Chownk Shahkot - 144702 Distt. Jalandhar Contact Person: Vishal Aggarwal Mobile: 98729-96366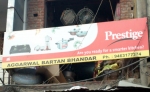 Aggarwal Bartan Bhandar Main Bazzar, Near Sabzi Mandi Chownk Shahkot - 144702 Distt. Jalandhar Authorised Dealers of Hawkins & Prestige Contact Details: Tel: 01821-503089 Mobile : 97796-42157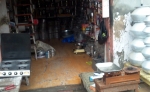 Dhawan Bartan Bhandar Near Slaichan Road, Moga Road Shahkot - 144702 Distt. Jalandhar Deals In: All kinds of Utensils, Cookers, Stoves, Sewing Machines, Gas Stoves : New and Repairing Contact Detail: Mobiles: 99144-77727, 98144-41300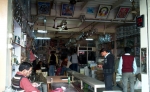 Mathra Dass Dina Nath Main Bazar Shahkot - 144702 Distt. Jalandhar Deals In: All kinds of Utensils and seeds etc. Contact Person: Sourabh Sobti Tel: 01821-260346, 01821-262346 Mobiles: 98140-45410, 92176-22162 Email Address: (click on read more to view email address)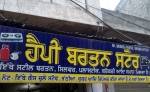 Happy Bartan Bhandar Salaichan Road Shahkot - 144702 Distt. Jalandhar Deals In: Steel Utensils, Silver and Plastic Crockery available and Gas Stoves, Cooker and other Kitchen appliances repairing is possible. Contact Details: Happy Mobiles: 98889-76950, 99889-97767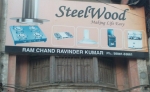 Ram Chander Ravinder Kumar Main Bazar, Sabzi Mandi Chowk, Shahkot -144702 Distt. Jalandhar Dealer: Hawkins Cooker, Philips, Inalsa, Chetak Cookware Contact Persons: Ravinder Kumar Mobile: 98881-63661 Dharminder Kumar Mobile: 98883-53369
---
Update Us About This Category of Shahkot City
(
More About This Category Page
)
Special Note :
Fill this form to send us more about this page, if you have any updated information of upper page Category of business or place of Shahkot City. This form will send instant email to
Team of ShahkotCity
and then Team will do appropriate action regarding this Category page to update places or add new places etc.
Thank you very much to everone for love & support.
---