Media > Press Reporters
Total
1
Found
All
A
B
C
D
E
F
G
H
I
J
K
L
M
N
O
P
Q
R
S
T
U
V
W
X
Y
Z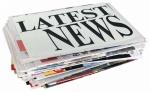 PRESS REPORTER, SHAHKOT Sr. Name Newspaper Mobile No email 1 S. Pritpal Singh Doordarshan, aj di awaaz 98881-20180 (click on read more to view email address) 2 S. Daljit Singh Sachdeva Ajit 94631-49800 daljitsachdeva@gmail.com 3 Mr Sonu Mittal DainikBhaskar severa 94639-00001 sonumittalreporter@gmail.com 4 S. Azad Singh Sachdeva DeshSewak PunjabiJagran 98888-61292 azadshahkotreporter@gmail.com 5 S.Simranjit...
---
Update Us About This Category of Shahkot City
(
More About This Category Page
)
Special Note :
Fill this form to send us more about this page, if you have any updated information of upper page Category of business or place of Shahkot City. This form will send instant email to
Team of ShahkotCity
and then Team will do appropriate action regarding this Category page to update places or add new places etc.
Thank you very much to everone for love & support.
---