Education > Computer Centres
Total
3
Found
All
A
B
C
D
E
F
G
H
I
J
K
L
M
N
O
P
Q
R
S
T
U
V
W
X
Y
Z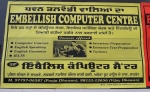 Embellish Computer Centre - Dhawan Shahkot ( Dhawan Talwandi Wale ) Near Arora Boot House, Backstreet of Laxmi Narayan Mandir (Near Police Station), Shahkot - 144702 District - Jalandhar State - Punjab INDIA. Offered Courses : Computer Courses, English Speaking, English Grammar, IELTS, Interview Preparation, Entrance Test Preparation, Tuitions Computer Centre Timings : 9:00 AM to 5:00 PM Contact Persons: Mrs. Pooja Dhawan Mobile : 0091 97797...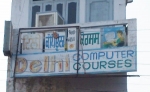 Delhi Computer Courses Opp. Dana Mandi, Malsian Road, Shahkot - 144702 Distt - Jalandhar Courses Available: IELTS Spoken English Computer Education Contact Person: Miss. Sukhwinder Kaur Tel: 01821-261001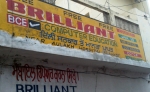 Brilliant Computer Education Salaichan Road Shahkot - 144702 Distt. Jalandhar Types of Courses: 6 Months Course - Full Fundamentals 1 Year Course - Fundamentals and Programming Skills (Foxpro, C, C++ etc.) Tele Accounting Software in Special Course Internet Learning in Special Course
---
Update Us About This Category of Shahkot City
(
More About This Category Page
)
Special Note :
Fill this form to send us more about this page, if you have any updated information of upper page Category of business or place of Shahkot City. This form will send instant email to
Team of ShahkotCity
and then Team will do appropriate action regarding this Category page to update places or add new places etc.
Thank you very much to everone for love & support.
---