Health Services > Dental Clinics
Total
6
Found
All
A
B
C
D
E
F
G
H
I
J
K
L
M
N
O
P
Q
R
S
T
U
V
W
X
Y
Z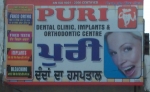 Puri Dental Clinic Near Civil Hospital Road Moga Road Shahkot-144702 Distt. Jalandhar Dental Facilities Available: Fixed Ortho Fixed Teeth Smile Design Aesthetic Filling R.C.T. Denture Scaling Extractions Minor ORAL Surgeries Implants Bleaching Contact Doctor: Dr. Ankush Puri [B.D.S., M.I.D.A.] Tel: 01821-262600 Mobile: 98150-85868 Email Address: (click on read more to view email address)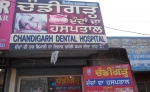 Chandigarh Dental Clinic ( Dental Care ) Moga Road, Old SBI Complex, National Highway - 71, Shahkot - 144702 Distt. Jalandhar For Dental Appointment : Call ( 0091 98883-02527 ) Facilities: Smile Designing Fixed Teeth Caps & Crowns Root Canal &Treatment (R.C.T.) Tooth Coloured Fillings Treatment of Mobile Teeth Correction Uneven Teeth (Wiring of Teeth) Untrasound Scaling X-Ray Full Denture Partial Denture Painless Extraction Opening Hours Timing : ...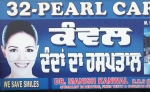 Kanwal Dental Clinic Opp. Manohar Lal Jain Hospital, Moga Road, Shahkot - 144702 Sunday Timings: [ 10-00 a.m. to 1-00 p.m. ] Timings: [ 9-30 a.m. to 8-00 p.m. ] Facilities: Dental Care with Japaneese Techniques Single Sitting R.C.T. X-Ray Laser Filling Braces Porcelin Fixed Teeth Sr. Harpreet Singh Khehra [ B.D.S. (Pb.), M.I.D.A. ] Mobiles: 98727-57003, 98553-10940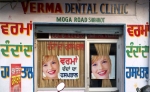 Verma Dental Clinic Opp. Khaddar Bhandar, Near Arora Hospital Mogar Road, Shahkot Dr. S.K. Verma Dental Consultant Diploma in Dental Health (Certificate Course of Dental Technology) ------------------------------------------------ Dr. Ashok Anand [ B.D.S. M.I.D.A. ] Visiting Orthodontist ------------------------------------------------ Mobile: 99884-51397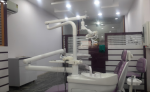 Bhalla Dental Clinic & Implant Centre Saidpur Road, SHAHKOT - 144702, District - JALANDHAR, State - Punjab India For Dental Appointment : Call ( 0091 70871-92300 ) Specialisation In : Root Canal Specialist, Best Dental Implant Centre Facilities: Single Sitting RCT for painful teeth Braces for malaligned teeth Treatment of broken & damaged teeth laser smile designing & bleaching Fix crown & bridges Tooth...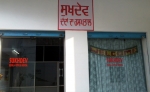 Sukhdev Dental and Optical Hospital Backside Police Station, Opp. Landmark Bank, Near Chana Auto Works Shahkot - 144702 Distt. Jalandhar Specialist: Dr. Vivek Gupta [ B.D.S. ] Dr. Sukhdev Singh [ R.D.S. , D.D.T. ] Facilities: Scaling Extractions Root Canal Treatment Fillings: Light Cure Silver Glass lonomers Hardward Complete Denture Removable Partial Dentures In Acrylic Fixed Partial: Dentures In Gold In White Metal In Porcelain Acrylic Plate
---
Update Us About This Category of Shahkot City
(
More About This Category Page
)
Special Note :
Fill this form to send us more about this page, if you have any updated information of upper page Category of business or place of Shahkot City. This form will send instant email to
Team of ShahkotCity
and then Team will do appropriate action regarding this Category page to update places or add new places etc.
Thank you very much to everone for love & support.
---