Real Estate Business > Builders and Developers
Total
1
Found
All
A
B
C
D
E
F
G
H
I
J
K
L
M
N
O
P
Q
R
S
T
U
V
W
X
Y
Z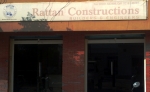 Rattan Construtions Builders & Engineers Ramgarhia Chowk Shahkot - 144702 Distt. Jalandhar Rattan Construtions Builders & Engineers is one of the leading upcoming builders within a short span of time the company has successfully carved its niche in the market with a number reputed residential and the commercial complexes to its credit. Our buildings mark a perfect mergence of aesthetic design and quality construction. Contact Details: Mobiles: 92165-49787,...
---
Update Us About This Category of Shahkot City
(
More About This Category Page
)
Special Note :
Fill this form to send us more about this page, if you have any updated information of upper page Category of business or place of Shahkot City. This form will send instant email to
Team of ShahkotCity
and then Team will do appropriate action regarding this Category page to update places or add new places etc.
Thank you very much to everone for love & support.
---