Health Services > Dance Classes
Total
1
Found
All
A
B
C
D
E
F
G
H
I
J
K
L
M
N
O
P
Q
R
S
T
U
V
W
X
Y
Z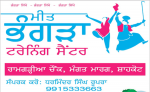 Meet Bhangra Training Centre c/o Satnam Dairy Ramgarhia Chownk, Mangat Marg Shahot - 144702 District - Jalandhar State - Punjab (INDIA). ::: Anybody Interested Can Come & Start BHANGRA ::: Dance Full Features :: Anybody can learn Bhangra for multiple benefits of Professional Dancing of Punjabi Culture, Health, Fitness, Weight Loss, Exercises Dance Therapy, Enjoyment, Pleasure of Dance. Professional Dance Classes :: for All Kids Girls...
---
Update Us About This Category of Shahkot City
(
More About This Category Page
)
Special Note :
Fill this form to send us more about this page, if you have any updated information of upper page Category of business or place of Shahkot City. This form will send instant email to
Team of ShahkotCity
and then Team will do appropriate action regarding this Category page to update places or add new places etc.
Thank you very much to everone for love & support.
---