Media > Advertising Agency
Total
1
Found
All
A
B
C
D
E
F
G
H
I
J
K
L
M
N
O
P
Q
R
S
T
U
V
W
X
Y
Z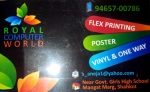 ROYAL COMPUTER WORLD FLEX PRINTING For All Type of Flex Printings Near Govt. Girls High School, Mangat Marg, Shahkot - 144702 Distt. Jalandhar, Punjab, India. Deals In : All Types of Printing Banner, Poster Ads FLEX Printing ( High Quality Resolution ) POSTERS VINYL & ONE WAY Photo Gallery of Royal Computer World Shahkot ( Automatic Printing Machine ) : + click on small snap to make it enlarge + Gallery Loading... ...
---
Update Us About This Category of Shahkot City
(
More About This Category Page
)
Special Note :
Fill this form to send us more about this page, if you have any updated information of upper page Category of business or place of Shahkot City. This form will send instant email to
Team of ShahkotCity
and then Team will do appropriate action regarding this Category page to update places or add new places etc.
Thank you very much to everone for love & support.
---