Shops and Businesses > Flour Oil Spices Mills
Total
1730
Views
Sadhu Ram Di Chakki Special Vadiyan Wale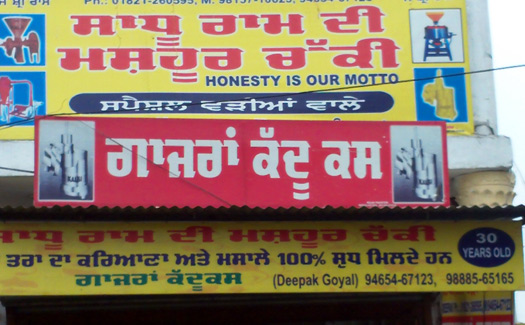 Sadhu Ram Di Chakki - Special Vadiyan Wale
Gandhi Chownk
Shahkot - 144702
Distt. Jalandhar
All Types of Grinding Machines Available:
Turmeric, Red Chilly, Masala, Sund, Alsi, Methe, Chaskoo, Rice, Bhakhra, Sugar, Mungi Daal Di Pithi, Chatnis, Paalak, Garlic, Dosa Powder, Pau Bhaji Masala, Mahaj, Cashews, Greavy, Green Chilly etc.
Summer Special Availability:
Shikanjavi Salt
Mix Salt
Juice Salt
Salad Salt
Desi SALT, Black Salt, Lassi Salt, Fruit Salt
Special Facility: Special facility for Chopping of Carrots
Contact Persons:
Rohit Goyal
Mobile: 98157-10623
Deepak Goyal
Mobile: 94654-67123
---
Update Us About This Page of Shahkot City
(
More About This Business/Office/Place
)
Special Note :
Fill this form to send us more about this page, if you have any updated information of upper page business or place of Shahkot City. This form will send instant email to
Team of ShahkotCity
and then Team will do appropriate action regarding this page to update details or contact numbers etc.
Thank you very much to everone for love & support.
---