Shops and Businesses > Wholesalers and Stockists
Total
1408
Views
Grover Traders Distributor Shahkot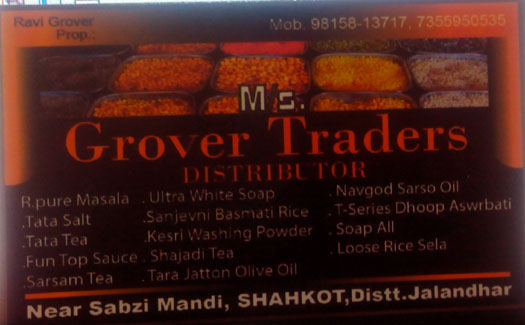 Grover Traders Distributor Shahkot
Near Sabzi Mandi,
Shahkot - 144702
District - Jalandhar, Punjab, INDIA.
Wholesale & Stockist Distributor Deals In :
Tea Companies ( Sargam, Shahjadi, Shahkti, Tata Gold, Tata Premium, Tata Agni, Lincon, Dip )
Soaps All ( Viva, Show Glory, JO, BCSI, Vansh, Ultra White, White, Tara, Shiva )
Washing Powders ( Jheel, Active Well, Kesri XL, Kesri Gold )
R Pure Masala
Salts ( Tata Salt, Tata Lite Salt, I Shahkti Salt, Mota Salt, Pakistani Salt, Black Salt, Full Energy Salt )
Sanjevni Basmati Rice
Tara Jatton Olive Oil
Navgod Sarson Oil
T-Series Dhoop
Loose Rice Sela
Dal
Sharbat
Sauces & Jams (JBS, Fun Top)
Pickels ( Fun Top )
Contact Person :
Mr. Ravi Grover ( Prop. )
Mobile1 - 0091 98158-13717
Mobile2 - 0091 73559-50535
---------------------------------------------------
Mr. Gourav
Mobile : 0091 99885-78085 ( WhatApp )
---
Update Us About This Page of Shahkot City
(
More About This Business/Office/Place
)
Special Note :
Fill this form to send us more about this page, if you have any updated information of upper page business or place of Shahkot City. This form will send instant email to
Team of ShahkotCity
and then Team will do appropriate action regarding this page to update details or contact numbers etc.
Thank you very much to everone for love & support.
---