Shops and Businesses > General Stores
Total
1351
Views
Devi General Store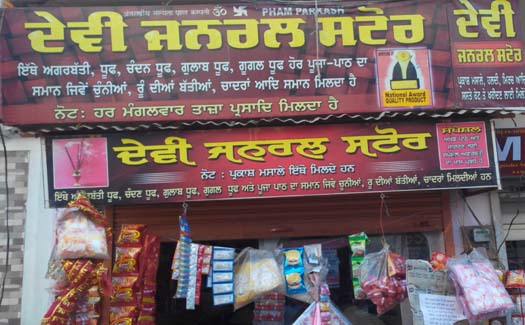 Devi General Store
Near Hanuman Mandir, Mnagat Marg
Shahkot - 144702
District Jalandhar, Punjab, INDIA.
Deals In : Agarbatti, Chandan Dhoop, Gulab Dhoop, Guggle Dhoop, other religious materials like Chunnis, Cotton Battis, Sheets etc. available.
Contact Person :
Mr. Pram Parkash
Mobile : 0091 95019-20899
: 0091 98887-21998
---
Update Us About This Page of Shahkot City
(
More About This Business/Office/Place
)
Special Note :
Fill this form to send us more about this page, if you have any updated information of upper page business or place of Shahkot City. This form will send instant email to
Team of ShahkotCity
and then Team will do appropriate action regarding this page to update details or contact numbers etc.
Thank you very much to everone for love & support.
---