Education > Tuition and Coaching Centres
Total
4255
Views
Chopra Book Depot Tuition Centre Shahkot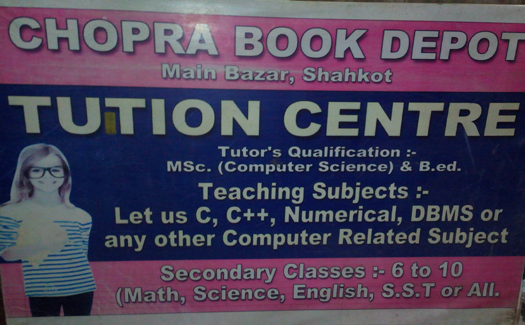 Chopra Book Depot Tuition Centre
C/O Chopra Book Depot
Main Bazar,
Opposite Aggarwal Sweet Shop,
Shahkot - 144702,
District - Jalandhar, Punjab, India.
Coaching & Tuition Subjects :
1. Let us C, C++, Numerical, DBMS or any other Computer Related Subject.
2. Secondary Classes :- 6th to 10th Standard ( Math, Science, English, S.S.T. or All ).
Contact Person :
Mr. Rakesh Kumar Chopra
Tel : 0091 1821 503032
Mobile1 : 0091 96469-79884
Mobile2 : 0091 98772-36784
---------------------------------------
Tutor Qualification :- M.Sc. (Computer Science) & B.Ed.
---
Update Us About This Page of Shahkot City
(
More About This Business/Office/Place
)
Special Note :
Fill this form to send us more about this page, if you have any updated information of upper page business or place of Shahkot City. This form will send instant email to
Team of ShahkotCity
and then Team will do appropriate action regarding this page to update details or contact numbers etc.
Thank you very much to everone for love & support.
---