Education > College
Total
2447
Views
Behal Institute of Medical Sciences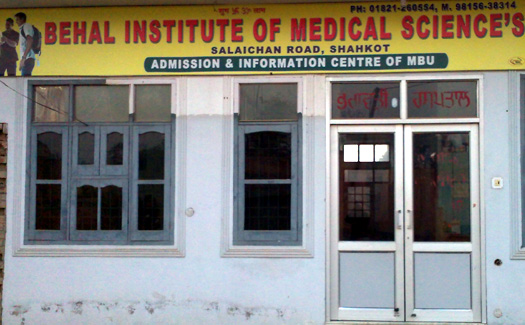 Behal Institute of Medical Sciences
Admission and Information Centre of MBU
Salaichan Road
Shahkot - 144702
Distt. Jalandhar
Available Courses:
Homeopathy Pharmacy
Ayurvedic Pharmacy, B.Sc. (Ayurvedic)
Vet. Pharmacy
DMLT, B.Sc (MLT), M.Sc (MLT)
DOTT (Operation Theater Technology)
DMRT (Medical Radiology Technology)
DPT (Diploma In Physiotherapy)
Yoga & Naturopathy
Diploma In Yoga Teacher Training
Diploma In Naturopathy & Yoga
Contact Person:
Dr. Pawan Behal
Head of Institute
Mobile: 0091-98156-38314
Email Address: ZHIucGJlaGFsQHlhaG9vLmlu
Email Address: aW5mb0BiZWhhbGhlYWx0aHNlcnZpY2VzLmNvbQ==
Official Website: http://www.behalhealthservices.com
---
Update Us About This Page of Shahkot City
(
More About This Business/Office/Place
)
Special Note :
Fill this form to send us more about this page, if you have any updated information of upper page business or place of Shahkot City. This form will send instant email to
Team of ShahkotCity
and then Team will do appropriate action regarding this page to update details or contact numbers etc.
Thank you very much to everone for love & support.
---