Shops and Businesses > Cloth Merchants
Total
3598
Views
Puri Cloth House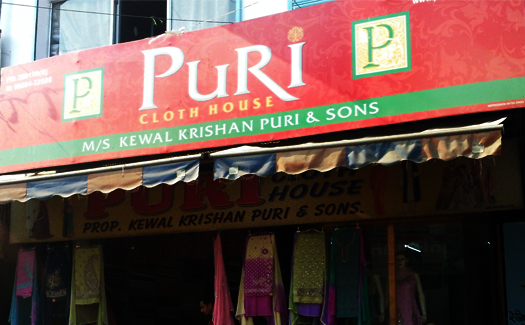 Puri Cloth House
Main Bazar
Rishi Valmiki Chowk
Shahkot - 144702
Distt. Jalandhar
Deals In: All types of gents, ladies wear. Readymade lady suits, lehngas and lots of variety with latest fashion available here.
They are committed to providing natural fiber easy to care for quality clothing, that is comfortable, affordable, fashionable and environmentally compatible. Made in India, using the best Indian made specialty fabrics such as Linen, Cotton, Organza, Chiffon & Silk. They have complete Wedding Clothing range for Brides and Bridegrooms for their Weddings as special as the occasion itself.

They maintain a high level of customer service by providing a friendly, knowledgeable staff who are committed to personal service and the continued quality of product.
Contact Details:
Vipan Puri
Tel: 01821-260097
Mobiles: 0091 - 99888-65254
0091 - 98884-32508
Vipul Puri
Mobile: 0091 - 99882-99881
PCH Website: http://www.puriclothhouse.com
Email Address: cHVyaWNsb3RoaG91c2VAaG90bWFpbC5jb20=

---
Tell Us About This Page of Shahkot City