Shops and Businesses > Internet CyberCafes
Total
2442
Views
Paradise Internet Cafe and Studio Dhandowal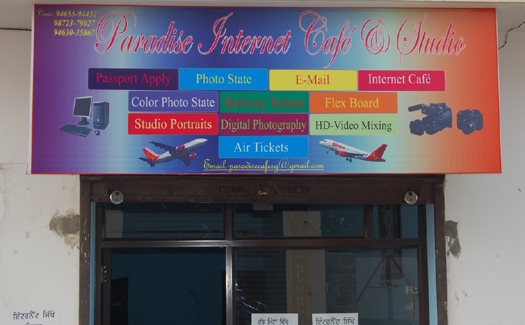 Paradise Internet Cafe and Studio
Village Dhandowal
Shahkot - 144702
District - Jalandhar, Punjab, INDIA.
Features and Facilities :-
1. Internet Cafe
2. Air Tickets
3. Passport Apply
4. Railway Tickets
5. Studio ( Passport Photo )
6. Flex Printing
7. Aadhaar Card Download
8. Email
9. Colour Printing Copy
10. Studio Portraits
11. Photstate
12. Digital Photography
Contact Person:
Mr. Navneet Sarbate
Mobile1 : 0091 94655-94432
Mobile2 : 0091 94630-35867
Email Address -: cGFyYWRpc2VjYWZlc2dAZ21haWwuY29t
---
Update Us About This Page of Shahkot City
(
More About This Business/Office/Place
)
Special Note :
Fill this form to send us more about this page, if you have any updated information of upper page business or place of Shahkot City. This form will send instant email to
Team of ShahkotCity
and then Team will do appropriate action regarding this page to update details or contact numbers etc.
Thank you very much to everone for love & support.
---