Education > Schools
Total
6384
Views
Mothers Pride International Public School Malsian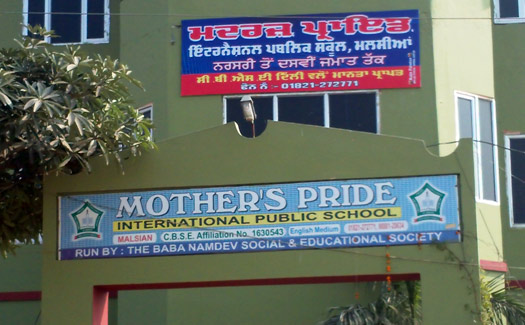 Mother's Pride International Public School Malsian
Kotli Road
Malsian - 144701
Tehsil Shahkot
Distt. Jalandhar
C.B.S.E. Affiliated School
Classes Range of School:
Prenursery Class to Tenth Class (10th)
School Timings:
Summers: [ 8-00 a.m. to 2-00 p.m. ]
Winters: [ 9-00 a.m. to 3-00 p.m. ]
A Premier Institute. A Stress free practice Teaching System.
Main Features of School:
SMART CLASSROOM - fitted with multimedia facilities
Child Centric value based education of global standards.
Holistic, development through right bend of Academic, Co-Curricular and Sports Activities.
Practical innovative learning through multi-disciplinary Labs - Science, Computer, Social Studies.
Contact Details:
Arun
Principal
Tel: 01821-272771
Mobiles: 98881-20634, 99886-02990, 96466-78380
Email Address: bXBpcHNtYWxzaWFuQGdtYWlsLmNvbQ==
---
Update Us About This Page of Shahkot City
(
More About This Business/Office/Place
)
Special Note :
Fill this form to send us more about this page, if you have any updated information of upper page business or place of Shahkot City. This form will send instant email to
Team of ShahkotCity
and then Team will do appropriate action regarding this page to update details or contact numbers etc.
Thank you very much to everone for love & support.
---